31 Dec

Kickstart 2020 by Unleashing Your Kindness Superpower!

Kavana Anklekar

Each moment of life provides us with the opportunity to change our lives for the better. Yet, there is an undeniable charm in making New Year resolutions and planning to improve our lives starting from the 1st of January – a day that marks the beginning of a new month, a new year, and this time, a new decade! While some of us might want to read more books this year, others might be planning to build a solid exercise regimen. You may have already prepared a detailed plan for the New Year, or you probably want to slow down a little and go with the flow – either way, there is one tiny resolution that you can include for the next year that is sure to make your life more enriching and meaningful.
And what is that little resolution, you ask? Random Acts of Kindness!

Cultivating the practice of kindness provides us with a greater depth of purpose, a sense of untainted contentment, and the satisfaction of seeing someone's face light up with joy. Kindness is the one superpower that is innate in all of us. Saving the world begins with opening our hearts and recognizing the umpteen opportunities that life provides us with.
After all, not all superheroes wear capes, some wear the warmth of kindness!

Speaking of superheroes and superpowers, here's a list of ten superheroes ranging from Hollywood stars to young kids who have chosen to make the world a better place, one kind act at a time.
1. 'Marvel'ous acts of Kindness – Chris Pratt and Chris Evans
We admire our onscreen superheroes for their indomitable strength, cool swagger, and jaw-dropping superpowers. What's even more inspiring is when our beloved superheroes don their superhero costumes to spread smiles and practice kindness. In 2015, Chris Evans and Chris Prat visited the incredible children at both Christopher's Haven in Boston and the patients and families at the Seattle Children's Hospital. Fighting life-threatening diseases each day can be a challenge for these young ones, yet they surge ahead with a smile on their faces. Seeing their favorite superheroes must have been a joyous moment for them, something they will cherish forever.
A reminder that our power lies in bringing joy into the lives of others. 
2. Hollywood's Kindness Ambassador – Keanu Reeves
"John Wick kills with a pencil. Keanu Reeves kills with kindness."
Hailed as the kindness ambassador of Hollywood, the internet is never tired of gushing over Keanu Reeves and rightly so. Be it helping Octavia Spencer when her car broke down on the way to an audition or complimenting the audience with a 'you are breath-taking', Reeves has repeatedly reminded us about the power of being a good human being, and it's his genuine belief in the joy of goodness that makes him so endearing. On top of that, Reeves is known to not take himself too seriously, and even and played a parody version of himself in the 2019 film 'Always Be My Maybe'.
It's no surprise then that even those who don't know him from The Matrix franchise, Speed or the John Wick Series sure know him as a champion of compassion.
3. President Austin to the rescue! – Austin Perrine
"I'm giving up my allowance and toys to help buy food for the homeless in America. Please help me and don't forget to show love!"
– President Austin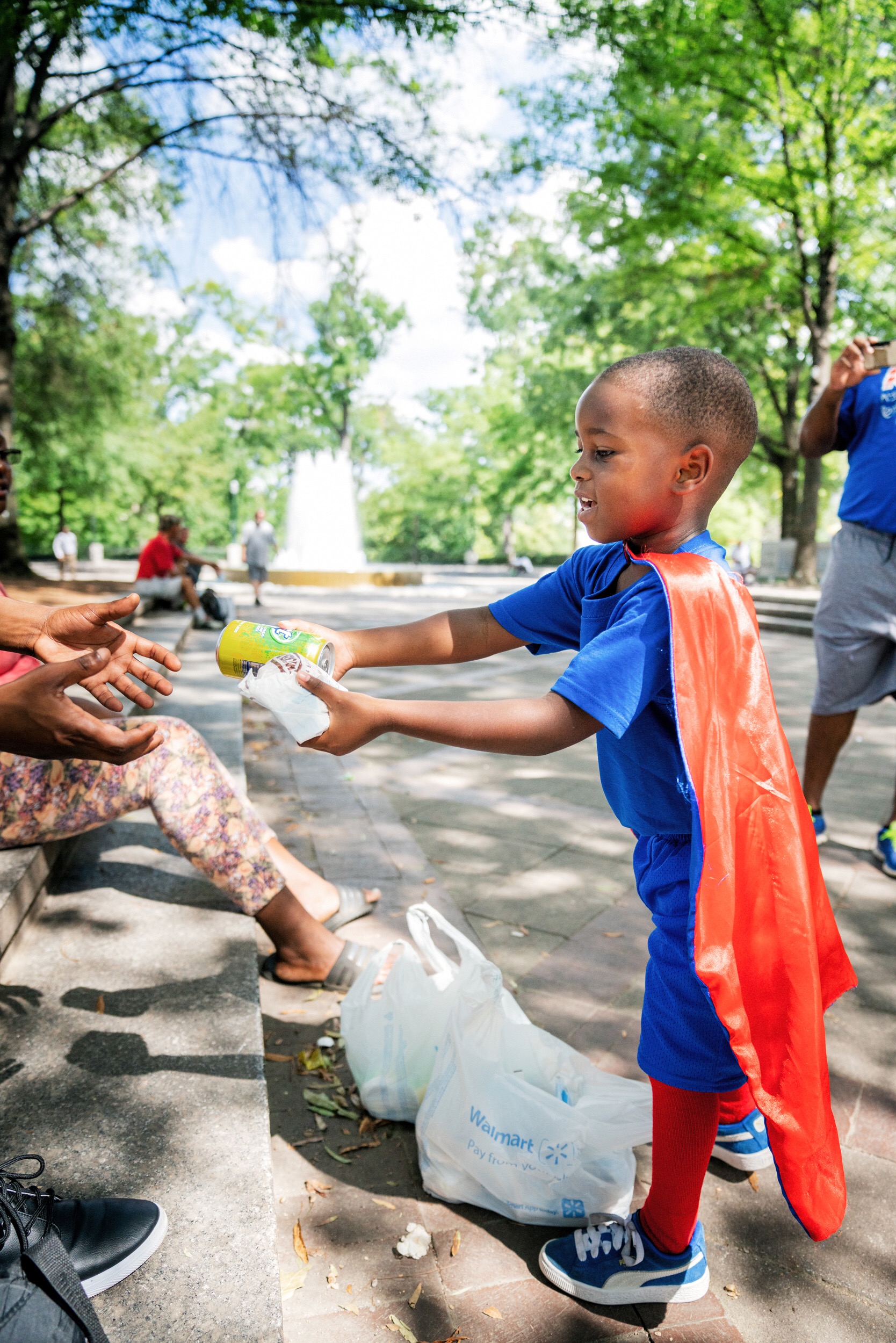 Austin Perrine is a sweet little six-year-old kid from Alabama. Looking at his innocent countenance, you would never guess that this young boy with a cute smile transforms into a superhero every week! Austin clips on his bright red cape and transforms into his superhero avatar, 'President Austin'. He walks the streets of Birmingham with his bag of sandwiches, and every time he spots a homeless person, he offers them a sandwich and a special message of love. He says that helping others makes him feel extremely happy and he enjoys being a superhero!
4. Captain Encouragement – Nicholas Domingo
You have heard of Captain America, but have you heard of Captain Encouragement? He is a superhero who fights bullies with kindness!
Growing up in Missouri, Nicholas Domingo had been a victim of ruthless bullying. Initially, he tried to get back at them, but he soon realized that was not the way forward. "Bullying bullies still makes you a bully. Being hateful doesn't have a positive outcome regardless of any form of justification," he says.
So, Nicholas started the Captain Encouragement School programs, where he conducts sessions with children, teaching them about the power of kindness in an interactive and engaging manner. Today, his initiative is reaching multiple schools in America and impacting hundreds of children, helping them bring a positive change in the world.
5. A Wildlife Messiah – Peera Ram Bishnoi
One blazing afternoon, Peera Ram Bishnoi was working in his small puncture repair shop when he noticed a helpless blackbuck lying on the road, struggling for life. It had been hit by a passing vehicle.
Bishnoi rushed to the scene, used his meager savings to treat the animal, and successfully managed to save its life. Over the next few years, he came across many such animals who had become victims thanks to the encroachment of their habitat. Bishnoi couldn't bear to witness their pain, so he began tending to the helpless animals. Soon, his home became a shelter for peacocks, rabbits, monkeys, and many other small, wild animals.
Since keeping wild animals without official permission is considered to be illegal, Peera Ram decided to seek permission to set up a farm on an abandoned wasteland. As people became aware of his selfless endeavors, they pitched in with their own acts of kindness. From chemists offering medicines free of cost to local people volunteering to help, Bishnoi's initiative garnered a lot of support.
Today, there are close to 600 animals on Bishnoi's farm, and he has managed to take care of over 1200 animals in the last ten years. His story is a true testament to the power of kindness!
6. Kindness on your special day! – Rushabh Turakhia
On 8th March 2017, Rushabh Turakhia celebrated his 40th birthday.
He wanted to make this day special for himself as well as for others. So he gave the mundane cake cutting ritual a pass and embarked on a journey of carrying out 40 Random Acts of Kindness!
Greeting the milkman with a smile, handing a rose to a stranger, providing refreshing snacks to a sweeper, and offering a ride to students were some of the acts of kindness that Turakhia included in his list. He is also the founder of the 'Your Turn Now' organization, which aims at spreading kindness through cards that can be passed on to other people and thus carry forward the message of kindness. His story serves as an inspiring example of how we can spread kindness through exciting challenges!
(I definitely know what I am going to do for my birthday next year!)
7. A Stranger becomes a Superhero
Stacy Lee recounts a heartwarming tale which was published in the Reader's Digest. Here's her story in her own words:
I saw a dress in a consignment shop that I knew my granddaughter would love. But money was tight, so I asked the store owner if she could hold it for me. "May I buy the dress for you?" asked another customer. "Thank you, but I can't accept such a gracious gift," I said. Then she told me why it was so crucial for her to help me. She'd been homeless for three years, she said, and had it not been for the kindness of strangers, she would not have been able to survive. "I'm no longer homeless, and my situation has improved," she said. "I promised myself that I would repay the kindness so many had shown me." She paid for the dress, and the only payment she would accept in return was a heartfelt hug.
Sometimes, when we are least expecting it, kindness knocks on our doors and surprises us. We must cherish such occasions and then make a promise to repay the kind act and surprise someone else! Don't let the chain of kindness break, make it strong and sturdy with daily practice!
8. The Colours of Kindness – Students of KNMA Institute
After the death of her husband, Dipti Joshi became the sole breadwinner of her family. To make ends meet, she started a small tea shop near the Kumaon hills. Unfortunately, her business didn't prosper, and she was finding it difficult to feed her three children. This is where the magic of kindness comes into play.
A group of students from the Kiran Nadar Museum of Art who were visiting Uttarakhand for a trip chanced upon Dipti's heartening story. They decided to use their artistic skills to help her. Whipping out their brushes and paints, they transformed the dingy hut into a beautiful stall adorned with the Aiapan style of painting. The tea stall, furnished with a new look, began attracting more customers. This meant that Deepti had a steady income stream, and her financial standing improved.
A few splashes of color and kindness is all it takes to brighten someone's life!
9.The Black Lotus Champions
The Black Lotus Champions are a group of dedicated and kind individuals who have made kindness their mission for life. Collectively, the BL Champions have conducted close to 50 kindness and meditation-based sessions and reached out to over 1100 people. BL Champs tool part in several activities that spread the message of kindness and mindfulness, ranging from plantation drives to visits to schools for children with special needs and helped people to bring about a positive transformation in their lives.
10. You
Kindness begins with you!
I hope these heartwarming stories have inspired you to make kindness a part of your new year's resolution. Start off small, record your Raks on the Black Lotus app, and share your stories of kindness. Unleash the superpower of kindness and flood the world with goodness!
A little tidbit before I sign off. While I was doing some internet research for this article, I came across this rather disturbing piece of data that showed me that the use of the word kindness has seen a massive decline over the decades.
However, there's no need to feel dejected. Let's promise ourselves today that in the next decade, kindness will skyrocket in popularity – both in words and in actions, and the world will become a kinder, a more gentler, a more compassionate place.
Here's to a glorious 2020!